pictures from a sunny saturday afternoon
as promised earlier, some pictures taken at the picnic at the Point yesterday. for those curious peeps who've never met my american friends here at the U of C:
this is rachel, our host and organiser of yesterday's afternoon (ok, couple of hours, for me) in the sunshine: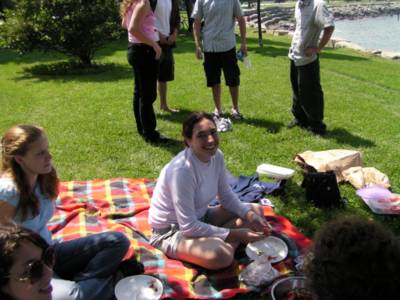 this one is paul and me (you can't see the words on the shirt, can you? alex hates this tshirt -grin-)
this is paul again, with liza. all of us are Mathewsniks, and liza and i are yearmates. liza's currently living with rachel, two other yearmate mathewsniks of ours (sam and lili), and Sean used to live there but has now graduated and is in Hungary playing chess.
this is marc, who lived in mathews last year and has since graduated and lives up north in his very own place...
and last but not least, for those of you who've never visited me here in chicago before, this is what downtown looks like from the Point when summer really rolls around -- isn't it beautiful?