italy chapter 3
before i forget -and i forgot on the earlier post- what remains in my memory of florence includes foooooood. the first night we were there we ate at Trattoria ZaZa, where we had the most unforgettable pasta -i had tagliatelle with a truffle-flavoured cream sauce, and alex had tagliatelle with fresh porcini mushrooms. the first bite of my pasta was heaven; and alex's pasta continued to please to the very last bite. (mine was a little heavy after the halfway mark, but i feel that way about all cream sauces regardless of how wonderful they taste) on our last night in Florence we ate there again (i wanted that porcini!) and alex had steak so beautifully done it almost converted me into an eater of bloody cowmeat (i usually get mine medium-well, so there's no bloody tinge) - it was wonderful. and the night in between we had paella -enough paella to feed a small army- at a restaurant near the best gelato in town. mmm.
that was truly wonderful gelato, by the way -a small geletaria with a line coming out of it composed partly of tourists and partly of people-who-really-live-in-Florence- where i had my first taste of really good hazelnut gelato. heaven. and the lemon, and strawberry, and...can you tell i am a big fan of gelato?
back to the trip: Stop the Second-and-a-half: Siena. day trip from Florence to see a hilly little Tuscan town, which was tremendously pretty. we just walked around a lot, took a whole bunch of pictures, ate at a pretty good trattoria with the best espresso i had the entire trip, and then went to a church (of St. Catherine) which had St. Catherine's head and thumb in it. i shall never understand the fascination with relics -not an integral part of Anglicanism- and would not go near said thumb. but it was interesting nonetheless.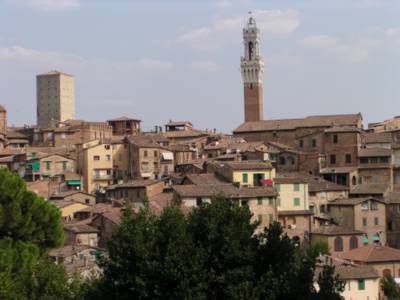 in the middle of town there is a square,
il campo
, where
il palio
is held - a violent horse race run around the square (well the scallop-shaped square) three or four times, where the rules say that the horse, not the jockey, wins the race -a riderless horse can win. the various communities within siena take part, and it's a colourful -and competitive- affair. we missed it, but feng was there the day it took place, and saw the parade, if not the actual race itself.