italy!
all right, everyone - i was just reminded by pstan that my photos are yet to be posted, as promised. and since i have a few minutes now -thanks to the first-attempt-at-lasagna that is bubbling in the oven, which includes sauce made from almost-scratch, thank you very much (i used canned tomatoes)- i shall attempt to post some in a review of the last two weeks.
stop one after london: Venezia/Venice. we arrived in what felt like the dead of night, but was really around eight or nine pm Venice Time. after almost missing the flight! flying in from Stansted, so we had to catch the Stansted Express from Liverpool St. however, we got on the wrong train -a later train!- and were locked in, watching the train we wanted to get on pull out of the station. so when we finally reached Stansted, we had five minutes between pulling into the station and the checkin windows closing. what ensued was a (relatively) high speed sprint through the airport (carrying, remember, all our worldly goods in two huge backpacks as well as carry on luggage) to check in, making it by a hair; then another high speed sprint to get through security (the line was ENORMOUS! alex had to ask two nice guys to let us cut in front, as we had literally twenty minutes to make our flight -boarding had ALREADY COMMENCED) and then -we had to catch a SKYTRAIN to our gate. as you can imagine, more sprinting. but we did make our flight.
as the plane banked to land at the airport, i got my first glimpse of Venice (of italy!) from the air, and i was glad we were coming in at night. Venice with all her lights glowing in the darkness, on the water, is gorgeous. and i was sitting with this little old italian lady, who, upon realising i was a tourist and had never seen Venice before, pointed out various things to me and said 'nice' over and over. -grin- i smiled, and nodded along with her.
here, my friends, is a closeup of the Bridge of Sighs (which we walked through, twice) with a bazillion tourists standing on the bridge behind. how terrifying that sight -the tourist horde, that is- was for the two of us!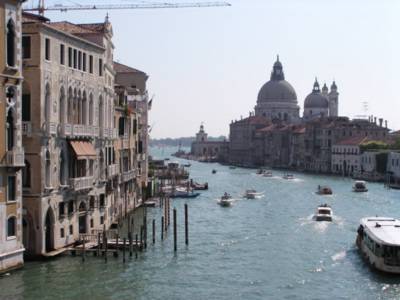 that, my darlings, is Venice looking out to sea in the early afternoon. isn't she beautiful?
more to come...